Peterson Trial Book Deals!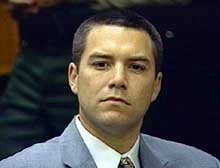 As I wrote after the guilty verdict was announced and then subsequently blasted across media airwaves a month ago, I never comprehended the celebrity-like fascination the American public has with this case. I understand that it was a particularly heinous crime, but there are terrible things that happen all over the world all the time. For the entire country to decide that this specific trial was so fascinating to read and hear about all day long, for no particular reason, just boggles the mind
This I do know for sure, however:
The book deal onslaught can begin! Book deals! Get your book deals!
Were you on the jury for the case? Were you an attorney for the prosecution or defense? Were you a witness or the lawyer of a witness? Did you clean the toilets the jury used to relieve themselves while in the courthouse?
If you answered "yes" to any of these questions, please step over to the line forming at the steps of the courthouse, while major media corporations whore themselves out to you in an attempt to win the rights to your ghost-written account of this infamous trial! Choose from appearances on morning news shows, MTV guest VJ spots, or even your own Paris Hilton-style recording contract!

If you did not answer "yes" to any of the above questions, don't just give up! Did you, by any chance, go to middle school with someone involved in the trial or murder? Or, perchance did you work the front desk at the hotel in which the jury was sequestered? Even if you just watched a lot of the coverage on CourtTV, we can at least find a news magazine article for you to be quoted in.
Seriously, though, wasn't it slightly unsettling in the aftermath of all of this to see the grins coming from people being interviewed who knew that they had some significant cash coming their way in exchange for telling "their story"? Lawyers, jurors, reporters and news anchors can't seem to get through any kind of an interview on TV without talking about the prospect of lucrative book deals.
And they better hurry, too, before everyone forgets about this stupid case. The first book out will be read, but the sales for each subsequent release will be smaller and smaller. Because, I think in the end, no one knows why the hell the entire country was mesmerized by what was essentially a horrible but sadly generic and familiar act of violence.